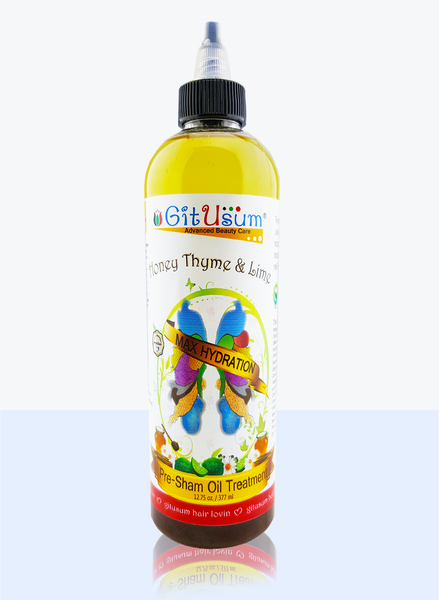 What you can do before you SHAM-POO
Pre-Sham is short for pre-shampooing, which essentially means applying a protective treatment to your precious strands before you lather up. Honey Thyme and Lime Pre-Sham helps protect your hair against cuticle damage, protein loss, adds extra moisture to your hair and essential nutrients. It contains a unique blend of Avocado oil, Banana extract, Honey, Coconut Aminos and conditioners that help PRE soften, detangle and minimize breakage. Honey Thyme and Lime Pre-Sham can be applied to dry hair for a full day, or you can massage it into your scalp, put a cap on for about 30 minutes and then rinse thoroughly.   Your hair will immediately feel pre-conditioned and more manageable. 
Directions of use: Apply to dry hair apply from roots to ends of the hair. Cover the hair with a plastic ca and sit under a warm hair dryer. Leave the hair rinse on the hair for 5 – 20 minutes or longer if preferred. Rinse hair thoroughly with warm water.
Follow up with the Honey Thyme and Lime Luxurious Shampoo for maximum shine and hydration. Style as desired.  
Size: 16.75 oz. / 495 ml
The Good Stuff Inside:
Persea americana (Avocado) Fruit Oil, Propanediol (EcoCert NPA Corn), Sodium Glycine Betaine (Beta vulgaris (Beet)) Sugar Extract, Hydroxypropyltrimonium Honey, Honey, Fragrance (Perfume), Althaea officinalis (Marshmallow Root),Rosmarinus officinalis (Rosemary) Herb Extract, Thymus zygis (sweet thyme) extract, Citrus aurantifolia (Lime) Peel Oil (Steam Distilled), Vegetable Glycerin USP, Kosher,Butyrospermum parkii (Shea) Butter, Coconut Aminos, ORG Banana Extract, ORG Aloe barbadensis (Aloe Vera) Leaf Juice, Honey Powder (Maltodextrin, Honey), Cannabis sativa(Hemp) Seed Oil, EcoCert Gluconolactone, EcoCert Sodium Benzoate, Argania Spinsosa (Argan) Oil, Phenoxyethanol , Glycol, Sorbic Acid, Tocopherol Oil, Carthamus tinctorius (Safflower) Oil 
coming soon